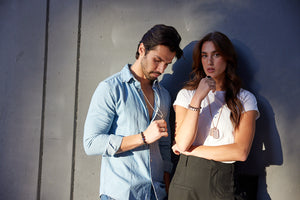 A Rich History of collaboration and design
Glamhouse x LAPD
For over a decade, Glamhouse Group and GlamBoutique have collaborated with many artist, celebrities and designers to create unique and collection of quality fashion jewelry. GlamBoutique continues this history of excellence through announcing our collaboration with the Los Angeles Police Department and LAPF to support those who serve the Los Angeles community.
PASCAL MOUAWAD: Continuing Tradition
In 2006, Pascal relocated to Los Angeles. His new home base helped nurture Mouawad's growing relations with Hollywood's A-list.
In 2010, Pascal and his brothers inherited the company reins from their father. Leading the retail division of the family business, Pascal focused on expanding the company's reach, and completing, along with his brothers, the vertical integration of Mouawad into a diamond manufacturer.
GLAMHOUSE GROUP
Through its innovative design collaborations with artists and style icons, Glamhouse Group consistently delivered a unique and diverse perspective in fashion jewelry. Drawing on over 120 years of expertise in the jewelry industry, Glamhouse Group focused on creating covetable collections that resonated with its clients' appreciation of style and creativity, season after season.
Leveraging the strong links between celebrities and the world of fashion jewelry that he had cultivated over more than a decade, early on Pascal Mouawad broke unprecedented ground by masterminding innovative collaborations that gave birth to Glamhouse Group. Here, artists and celebrities were given the creative freedom to design jewelry collections under their own label while receiving Pascal's guidance and expertise. Through Glamhouse Group, icons such as Nicole Richie and Kim Kardashian translated their personal style into timeless collections that connected with trendsetters around the world. Glamhouse Group brands were retailed at major department stores, specialty boutiques and leading e-retailers around the world.
Supporting Communities
The Los Angeles Police Foundation(LAPF) creates partnerships to provide resources and programs that help the Los Angeles Police Department (LAPD) perform at their highest level and to enhance LAPD-community relations.